Particle E Series
Meet the World's first all-in-one cellular IoT hardware platform with built-in Cloud connectivity and global SIM support. Available in 2G and 3G variants with future support for LTE M1 / NB1 (NB-IoT).
All the hardware you need for cellular IoT
Particle's E Series modules include all the key hardware you need to build an IoT product:
Powerful ARM Cortex MCU. 120MHz core with ample GPIO, 1MB Flash, and 256KB RAM provides generous resources to support a wide variety of IoT applications.
Best-in-class cellular radio. Choose between E Series variants that integrate industry leading u-blox 2G, 3G, and LTE M1/NB1 radios.
External flash. Integrated external flash which can be used for storage of sensor data or redundant application backups.
Battery management PMIC. Highly intelligent power management system supports both rechargeable and single-use batteries.
External antenna connector (u.FL). Simplified RF integration – choose from a list of antennas pre-certified with the E Series.
View the Datasheet
Seamless transition to scale
The E Series builds on the Electron, our industry-leading cellular prototyping kit, to provide a clear hardware scaling path from prototype to production.
The Electron and E Series modules share the same development tools, run the same code, and have the same hardware peripherals, so transitioning to mass-production is as simple as replacing the Electron in your prototype with an E Series module on your PCB.
Designed for reliability, ready for production
Particle's E Series modules were designed for scale and comply to industry standards to ensure your IoT solution survives in hostile and unpredictable environments. All E Series modules include:
Single-sided, machine placeable SMT design, which accelerates PCB assembly during manufacturing
Embedded MFF2 SIM card which resists vibration, corrosion, and mechanical failures
Extended operational temperature range from -20 to 85C for deployment in hostile environments
Fully certified
All E Series modules have been RF-optimized for easy integration and come jam-packed with all of the most common wireless and cellular certifications:
PTCRB End-Product certified (pending). PTCRB is a complicated certification that is required of nearly all cellular-connected devices. E Series modules carry an uncommon End-Product PTCRB certification, eliminating this responsibility for product integrators.
FCC / CE / IC / GCF certifications. Leverage Particle's existing certifications to significantly decrease the cost and complexity of mandatory approvals.
RoHS compliant. All our products are RoHS compliant and ready for distribution around the World.
More than just hardware
When you scale your IoT solution with Particle, you get more than just a hardware solution. All E Series modules integrate with Particle's Cloud platform, development tools, and device management console and are supported by the World's largest IoT development community.
Learn more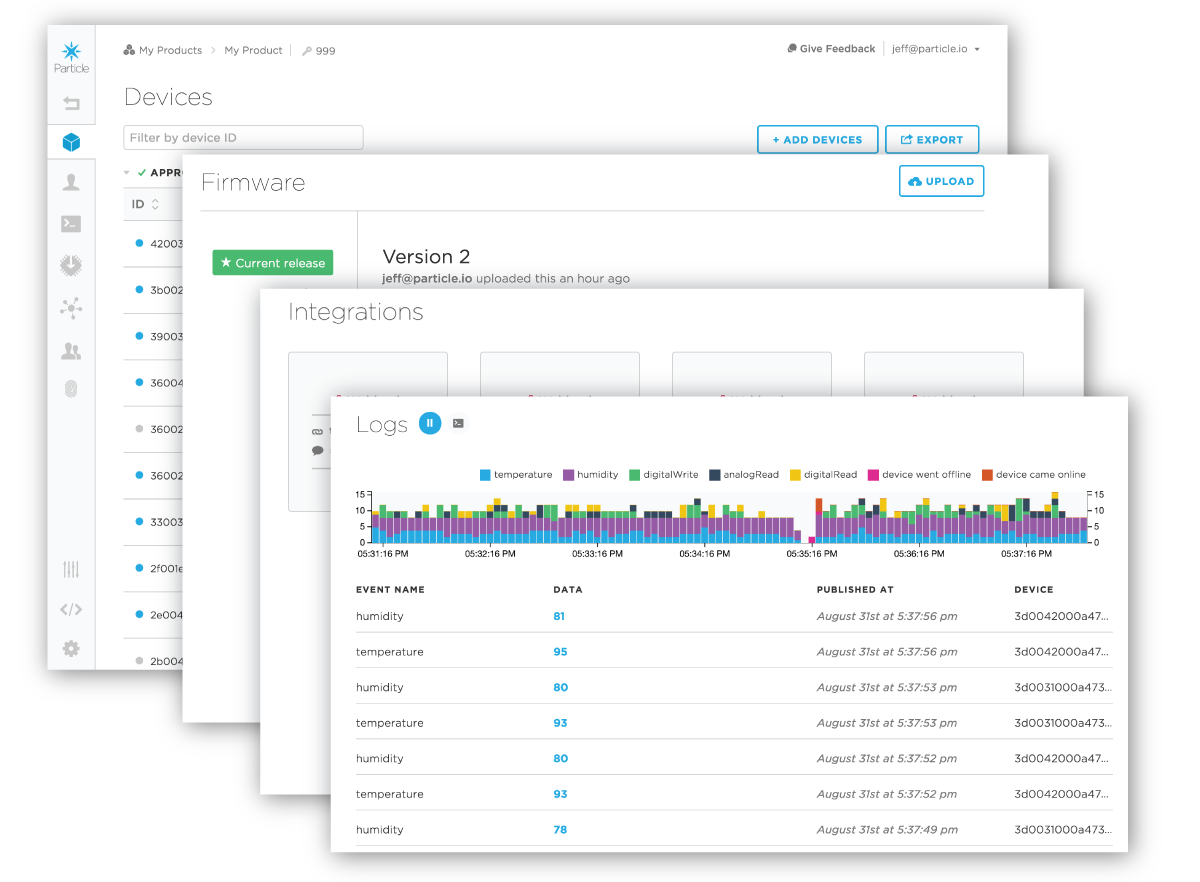 We're excited about the E Series
The Particle Team is extremely proud to share the E Series with IoT product creators around the World. Head over to our blog to learn more about what inspired the E Series, and why we think it's so special.
Read the blog post
Technical Documentation
Application notes (coming soon)
Hardware Resources
Wholesale purchasing (coming soon)
EAGLE CAD Library (coming soon)
Interested in building with the E Series?