We Want to Help You Reprogram the World
Particle empowers innovators to solve the problems of industry.
Particle Powers Connected Solutions to Business Problems.
Particle provides an integrated IoT Platform-as-a-Service that helps businesses connect, manage, and deploy software applications to connected devices, from edge to cloud and back. Over 240k developers, and 160+ Enterprise customers are building on Particle, from fast-growing startups to Fortune 100 companies.
Our expertise goes beyond world-class technology, enabling next-generation business intelligence, insights, and expert customer support to make sure IoT projects succeed. So you can reprogram your business, industry, and the world.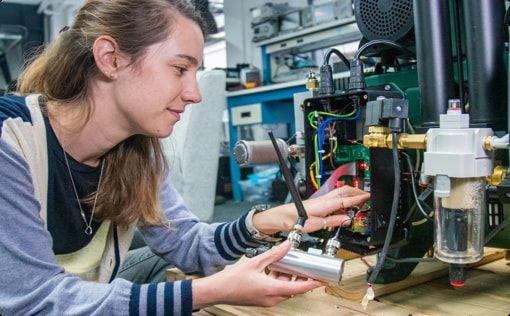 We Help Leading Brands Launch Industry-Changing Connected Products
Particle is headquartered in San Francisco, with a globally distributed team supporting connectivity for our customers no matter where they are.
Our History
Driven to make a difference in the world, Particle CEO and cofounder Zach Supalla started this company because his dad was deaf and he wanted to create a connected light that flashed whenever his father received a text message. This started Zach on a journey to ask, "What if we could reprogram lights to make our lives easier?" And second, "What if everything could be reprogrammed to make our lives easier?"
Today, that's precisely what Particle does. Except now, Particle is a full-stack IoT Platform-as-a-Service that's helped some of the most innovative companies in the world reprogram their businesses for the better.
2021
Introducing Particle EtherSIM, our new next-generation cellular platform with no monthly data plans or device fees.
2020
Launched Particle Tracking System, the most customizable asset tracking platform designed to support uses cases that go beyond location tracking.
2019
Particle raises Series C round lead by Qualcomm Ventures and Energy Impact Partners to drive widespread IoT adoption.
2018
Significant milestone - Over 8,500 companies and 150,000 developers use Particle to build and launch IoT products.
2017
Particle raises Series B lead by Spark Capital to bring IoT to the enterprise.
2016
Spark rebrands to Particle and launches Enterprise IoT cloud to accelerate time to market.
2015
Meet the Electron: Particle's first IoT board built with cellular connectivity, designed to connected anything.
2013
Spark launches the Spark Core to make building internet-connected projects easy: Over 5,549 backers pledged $567,968.
2013
Spark launches an integrated IoT platform to serve a fully increasing SMB / enterprise audience.
Investors
Venture-backed company supported by world-class investors.
Particle for Good
Particle For Good
Receive special benefits and resources if you are building an IoT product that brings about social good.
Create a brighter future ›
Let's Reprogram the World Together
Become part of a team that's enabling the next generation of the Internet of Things